Responsible Tourism, what's all that about?
Many people visit Siem Reap for a relatively short time, usually 3 or 4 days whilst viewing the glories of Angkor.  Here are a few tips on how to make the most of your stay, and how to engage with the local communities should you wish to help: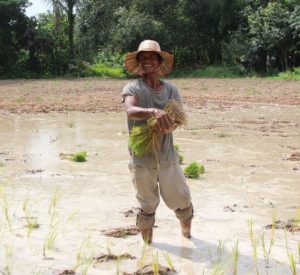 Meeting the locals
Experience local life; use local transport; eat where local people eat; shop at local markets and try your hand at bargaining where appropriate
Try learning a few words of the local language
Talk about the realities of your home country, pointing out the negatives as well as the positives
Pay careful attention to social conventions and respect them.  Cambodians are very traditional and conservative in their behaviour.  A few things to be avoided include:

Don't touch anyone's head, especially someone older than you
Don't sit with the bare soles of your feet pointing at people or religious objects
As a general rule it's best if men don't touch Cambodian women, and women should never touch monks

Think twice before buying souvenirs from children, especially if it's late in the evening
Don't give money directly to begging children.  If you wish to help, find out which projects are working to improve the lives of children on the streets and give your money to those
Heritage and Culture
Remember the temples are active religious sites and world heritage treasures
Dress appropriately when visiting them (it's best to cover your shoulders and knees)
Avoid touching the carvings and bas reliefs
Don't hesitate to point out the cultural aspects you value the most.  Things that impress us are more likely to be cultural characteristics we don't have at home.  Pointing these out will encourage locals to preserve their uniqueness
Don't support the trade in ancient relics by buying historic artefacts
Environment
Conserve water—there is an ever increasing demand in Siem Reap
Try to reduce the amount of single use plastic items such as plastic bags, cups, straws, styrofoam trays, water bottles etc.
Help with the government's attempts to clean up Siem Reap—dispose of your litter carefully
Economy
Shop at locally owned businesses – buy local goods and products
Supporting projects
If you decide to offer support, ask what your chosen project needs. It's best not to assume and buy things beforehand to take out with you as they will certainly have a list of their more urgent priorities
If you're planning your visit whilst still at home, remember that most things are available in Siem Reap.  Wait and buy what is needed when you get here; then you can support the local economy, as well as the project
If you're staying a little longer…
Experience the local habits, traditions, dress codes, food and behaviour
Learn the language
Engage in Ecotourism activities. Ecotourism is defined as "Responsible travel to natural areas that conserves the environment and improves the well-being of local people".
We soon come to realise that the cultures we are visiting are influencing us…
How are we influencing them?